Description
Adobe Creative Cloud All Apps: The Ultimate Solution for Creatives
Adobe Creative Cloud is a suite of creative software applications that includes popular programs like Photoshop, Illustrator, InDesign, and more. This cloud-based service allows users to access these tools from any device, anywhere in the world, making it the perfect solution for creatives who need to work on-the-go. Overall, Adobe Creative Cloud is a must-have for any creative professional who requires powerful and reliable tools for their work. With its affordable pricing, seamless integration, and numerous features, Adobe Creative Cloud is the ultimate solution for creatives who want to take their work to the next level.
Adobe Creative Cloud All Apps Subscription একাউন্ট এ যে সকল সুবিধা পাচ্ছেনঃ
1 Month Validity

Renewable as an official subscription
Supports Windows & Mac devices
Adobe Creative Cloud All apps subscription is available in Bangladesh, and you can purchase it from Tech Haat. You can enjoy all the official features and access all Adobe Creative Cloud software by subscribing.
This is the official Adobe Creative Cloud subscription, which includes all official updates and features. To enjoy the full benefits, Delete all unauthorized Adobe crack apps and switch to our official Adobe CC subscription.
This subscription is compatible with both Windows and Mac platforms. However, please note that Adobe Stock is not included in this subscription.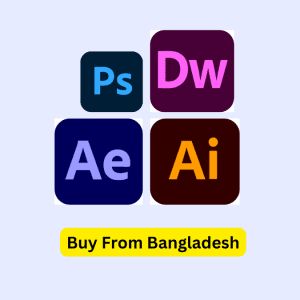 adobe premiere pro price in bd , adobe photoshop price in bd , adobe acrobat pro price in bangladesh , adobe illustrator cd price , adobe software buy , adobe reseller in bangladesh , adobe collection price , adobe subscription bd, Adobe Creative Cloud Subscription Price in BD, Adobe Photoshop Creative Cloud Software Price in BD , Adobe Creative Cloud For Teams All Apps, Original Adobe Software Price in Bangladesh 2023, Adobe Illustrator CC for Teams Price in Bangladesh, Adobe reseller bangladesh, adobe offer coupon deal price, Adobe Creative Cloud All Apps Subscription, adobe creative cloud bangladesh, adobe creative cloud price in bangladesh , adobe subscription bd, photoshop cc price in bangladesh, adobe photoshop, adobe illustrator cd price, adobe illustrator cc price in bangladesh, photoshop bd, adobe shop bangladesh, adobe provider bangladesh, tech haat, adobe creative cloud free download, adobe creative cloud official subscription bangladesh, adobe bkash, adobe creative cloud latest version 2023